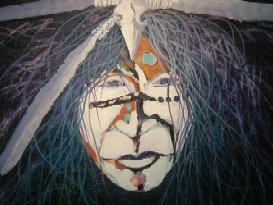 Purple Medicine Woman
Workshops, Seminars and Lectures

I am available as a guest speaker/lecturer, workshop facilitator, and have a slide-show presentation on my experiences and travels to Siberia with the Buryat and Tuvan shamans. See below for topics presented in the past and most of the offerings in Services Provided can be presented in workshop format. Please call or email for scheduling.

Upcoming Events 2007
Journeys to Central Siberia and Mongolia- July and August, 2007 (see Travels)
Healing and Drumming Circle - monthly gatherings
Monday, January 22, 2007, 2:00 - 4:30 pm
Monday, February 26, 2007, 2:00 - 4:30pm
Monday, March 26, 2007, 2:00 - 4: 30 pm
Monday, April 23, 2007, 2:00 - 4:30 pm
Tuesday, May 29, 2007, 2:00 - 4:30 pm
Monday, June 25, 2007, 2:00 - 4:30 pm

San Francisco location
Donation: $20.00 or sliding scale
call or email for more information
debra@purplemedicinewoman.org
415-922-0137
Shamanic Journeys - The Power of the Dream - five week session
In the tradition of the shamans of Central Siberia, you will learn
that we can control our life through our dreams. You will learn about the
different portals used for lucid dreaming. Lucid dreaming is a powerful
tool to access information, and you will learn how to interpret what you
find in these dreams. In addition, we will practice self-healing and
healing on others through meditation and guidance. Together we will create
and perform a purification ritual to wash negativity from self, others and
the earth. This is a non-sectarian course devoted to personal empowerment.ase wear comfortable clothing, bring an eye covering, rattle or drum, a
Osher Lifelong Learning Institute/SFSU (OLLI) - San Francisco
Westfield Center ~ Market and Powell Streets
5-week session as follows:
Thursdays, March 1, 8, 15, 22, 29, 2007, 6:00 - 8:00 pm
Registration: $95 www.cel.sfsu.edu/olli or call 415-405-7711
The Master Key to Ancient Knowledge of the Heart - Full Day Workshop
Sunday, April 1, 2007, 10:00am - 5:00pm
Presented by Elena Loboda, MD, PhD and Debra Varner, MA

The Master Key to Ancient Knowledge of the Heart
According to the secret tradition of the Hyperborean Siberian lineages of knowledge, everything in the Universe is a result of interaction of Three Sacred Forces: Force of Stabilization, Force of Transformation and Force of Unification. The Universal elements: Space, Air, Fire, Water and Earth are manifestations of those Forces. A wisdom keeper communicates with those Forces by using the Science of Images. According to this Science, a wisdom keeper creates images of vibrations-space-time by applying all of the senses and activates the images by inviting the spirit-energy of those Forces into the body. The active image of each Force has its own consciousness-energy and works accordingly with it's essential nature for the healing, harmonizing and transforming of the whole multi-dimensional human organism: body-energy-mind, and all of that which affects life circumstances.
In this workshop, participants will learn about three major Forces that create and manage our life. You will be guided through stages of ancient meditation to recognize those three Forces separately and in unity by using the master key of the heart - the method to open the heart-wisdom channel. The heart-wisdom channel is the door to inner knowledge about the deep hidden purpose or cause of disease, illness, or obstacles, and about the inner source for purification, healing and transformation.
*Note: For those who attended the November 2006 evening seminar,, this workshop will go deeper into the heart energy connecting it with the spinal cord and the brain.
Cost: $120
For registration contact: debra@purplemedincewoman.org or call 415-922-0137.
Monarch Bear Institute Shamanic Healing Circle
For shamanic practitioners - meets every Thursday evening
San Francisco location
Call Dr. Rodney Karr for further information and fee structure
415-931-1934


Past Workshops and Lectures

Evening Workshop - Shamanic Journey Into the Heart
Wednesday, November 15, 2006
Presented by Elena Loboda, MD, PhD and Debra Varner, MA

Lecture and Slide Presentation: Traveling the Sacred Lands of Central Siberia
Thursday, May 11, 2006
Get Lost Travel and Books
Instructor/Facilitator: Shamanic Journeys - The Key To Building Relationships with your Spirit Allies
Osher Lifelong Learning Institute/SFSU (OLLI) at the Jewish Community Center - San Francisco
8-week session February 6, 13, 20, 27, 2006 and March 6, 13, 20, 27, 2006

Guest Speaker: Shamanic Journeys and Mental Fitness
City College of San Francisco, Older Adults Education
December 2, 2005
Guest Speaker: Alternative Healing Methods
City College of San Francisco, Older Adults Education
November 18, 2005

Guest Lecturer: Shamanic Healing - Ancient Healing Arts for Pain Relief
Jewish Community Center - Center for Adult Living and Learning
July 7, 2005

Guest Lecturer: Shamanic Healing Power - Discovering the Healer Within You
Jewish Community Center - Center for Adult Living and Learning
June 1, 2005