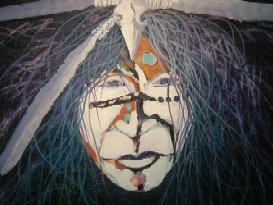 Purple Medicine Woman
Bibliography and Resources
Articles by Debra Varner:

-Back to Siberia - In Relationship with a Tuvan Shaman,
Shamanism: Journal of the Foundation for Shamanic Studies,
Spring/Summer 2004 (see Articles)
-Return to Tuva, Sacred Hoop, Winter 2003

Suggested Reading about Shamanism
There are numerous publications on the subject of shamanism. These are just a few of the selections that have guided me along my way. I am grateful for the wisdom of these authors, scholars and shamanic practitioners.
Balzer, Marjorie Mandelstam, Editor, Shamanic Worlds: Rituals and Lore of Siberia and Central Asia
Bolen, Jean Shinoda, Goddesses in Older Women
Cowan, Tom, Shamanism As a Spiritual Practice for Daily Life
Eliade, Mircea, Shamanism: Archaic Techniques of Ecstasy
Farmer, Steven D., Power Animals: How to Connect with Your Animal Spirit Guide
Harner, Michael, The Way of the Shaman: A Guide to Power and Healing
Ingerman, Sandra, Medicine for the Earth
Ingerman, Sandra, Shamanic Journeying, A Beginner's Guide
Ingerman, Sandra, Soul Retrieval
Kharitidi, Olga, Entering the Circle
Kharitidi, Olga, The Master of Lucid Dreams
Mindell, Arnold, The Shaman's Body
Narby, Jeremy and Huxley, Francis, Editors, Shamans Through Time: 500 Years on the Path to Knowledge
Sarangerel, Chosen by the Spirits
Sarangerel, Riding Windhorses
Scully, Nicki, Alchemical Healing
Scully Nicki, Power Animal Meditations
Scully, Nicki, The Golden Cauldron
Some, Malidoma, Of Water and the Spirit: Ritual, Magic, and Initiation in the Life of an African Shaman
Some, Malidoma, Ritual: Power, Healing and Community
Some, Malidoma, The Healing Wisdom of Africa
Tedlock, Barbara, The Woman in the Shaman's Body
Tkacz, Virlana, et al, Shanar: Dedication Ritual of a Buryat Shaman in Siberia as conducted by Bayir Rinchinov
Vaughan-Lee, Llewellyn, Spiritual Power: How It Works
Villoldo, Alberto, Shaman, Healer, Sage
Weiss, Brian L., Many Lives, Many Masters
Whiteley, Richard, The Corporate Shaman: A Business Fable

Affiliations and Shamanic Organizations
California Institute of Integral Studies
www.ciis.edu
Foundation for Shamanic Studies
www.shamanism.org
Society for Shamanic Practitioners
www.shamansociety.org
Monarch Bear Institute
www.monarchbear.org
Osher Lifelong Learning Institute - San Francisco (OLLI)
www.cel.sfsu.edu/olli/
Association for the Integration of the Whole Person (AIWP)
www.aiwp.org

Journey to the Heart
www.journeytotheheart.org