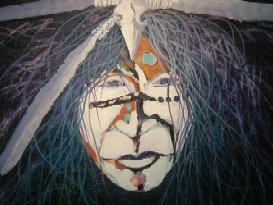 Purple Medicine Woman
Articles
The following article was published in part in the Winter 2003 edition of Sacred Hoop magazine and in its entirety in the Spring 2004 edition of Shamanism, the journal of the Foundation for Shamanic Studies. This documents my first experiences in Siberia with the Buryat and Tuvan shamans.
Tales of Purple Medicine Woman©
by Debra M. Varner, MA
November 1, 2003
Back to Siberia - In Relationship with a Tuvan Shaman ©
Two years ago, I knew very little about Siberia or Tuva, a small republic in southern Siberia, or at least my knowing was not in my waking consciousness at the time. I knew from journey work that something was calling me to Asia - where, I could not pinpoint. When guided through a visualization to recall my ancestry, I saw my original spirit form travel to the great Mountains and Steppes. I am a woman of mixed race - Chinese, Filipino, Puerto Rican, Corsican and Portuguese, so this came as no surprise that I would be taken back to Asia the land of my father. The place was familiar to me - the cold winters, the sweet warm summers, the wide plains, the rivers, animals and way of life. Life was hard, but joyous. I was one with the earth and at peace with myself and other beings around me. I knew the traditions of the people and the ways of the land. I wanted to feel this again, and knew I must go there - back to Siberia.
For years, my husband, Michael, talked about taking the Trans-Siberian rail across the continents. During Soviet times, this would have been almost impossible for us, but now the roads were open again to foreigners and our chance arrived. In November 2001, we learned that an Australian tour company would be taking small groups on the Trans-Mongolian Rail from Beijing to St. Petersburg beginning the next spring, and we both knew it was time. We planned to take the trip in June 2002. Shortly after making this decision, I was guided to my American Shamanic teacher, Lenore Norrgard, a graduate of Michael Harner's Shamanic Healing Counseling Program, and student of Sandra Ingerman in the three-year program of the Foundation for Shamanic Studies. By coincidence, I saw her flyer on a bulletin board and I learned to journey under her guidance and began to build a stronger relationship with my spirits. During one journey, I found one of my spirit teachers to be an Asian Sage. He lived in a yurt with red walls, welcomed me as a long lost relative, spoke kindly as a grandfather would to his beloved grandchild and laid me down on the floor of the yurt and covered me with a red blanket. I was comforted in this place and knew I was given guidance in the work that was coming clearer into my memory. He invited me to come back whenever I needed healing and rest.
From that time, opportunities immediately opened to me for more learning. Once again, I was thrust into the spirit world by what was coming to me. Lenore forwarded me information about a Tuvan Shaman visiting the Bay Area, and I knew I must work with this Shaman and find out more about what Siberian Shamanism was about. I first encountered Nicholai Oorzhak at a performance he was giving the evening before his workshop. He performed a Shamanic purification ceremony for the audience before his throat-singing concert. I learned later that throat-singing is used in healing - the mesmerizing sounds unique to the Tuvan culture and many people of Mongolian descent. I attended the workshop and learned more about healing and the role of the Shaman in his community. He is the counselor, healer, mediator, channel to the spirits. He uses guidance from the spirits to diagnose and treat ailments. He draws energy using sacred tools, nature, the elements, ancestor and animal spirits, sun, stars and moon. I observed and absorbed all he was allowing me to learn of his practice and life. I felt grateful by the opportunity to work with him and knew this was my introduction to the Shamanic world of Siberia. I asked him at one point about my calling to this work, and he said it could only be passed through my ancestors. I knew nothing of them beyond the names of my father's parents. How could I find out whether I was a descendant of Shamans? This pulling and pushing into this world was so strong for me and I couldn't explain what made it so. I surrendered to Spirit to guide my way.
Another sign came when I invited my daughter to have a healing session with Nicholai. At the appointed time, we entered the home where he was staying and were led to a room where he was having his healing sessions. I sat on pillows near a wall, his translator, Eres, sat opposite me. My daughter laid on cushions on the floor, Nicholai sat beside her with his altar placed to his back. They talked about the type of healing she had come for and decided it was appropriate for her to have a spiritual healing. Children in Tuva have spiritual healing ceremonies at birth and every twelve years thereafter. My daughter was in her twenty-fourth year, and he said the time was right for her to have this healing. During the healing, I noticed the room, an oval shaped room finished in redwood on the ceiling, walls and floor. My daughter lay under a red blanket and I was immediately taken back to my vision of the Asian Sage grandfather whom I visited in my journey. Tears came to my eyes as I realized we were meant to be in this place as I recognized the red walls, red blanket and the Asian Shaman who was here for us. I began reading more on Mongolian and Siberian Shamanism, and felt better prepared to go on this journey to cross Asia.
The Trans-Mongolian Journey
While on the trip we stayed outside Ulan Bataar, Mongolia at a yurt camp. I was called to do a ceremony honoring the earth and nature and my fellow travelers joined me in this celebration giving thanks for being brought to this place. In the cup of a small valley we gathered in a circle in the twilight before the summer solstice. I felt at home with the people, the land and the work. I knew I would have to come back one day. The earth here was providing an opening for me to return.
On first seeing the crescent-shaped Lake Baikal that June, I held the icy water in my hands and washed my face, head and neck with the sacred water. I had read that stones from the Lake were also sacred and used for divination purposes. As I had read in "Chosen By the Spirits - Following Your Shamanic Calling" by Sarangerel, I chose 41 stones at the lake's edge and planned to use them in my practice. The tools I needed were coming to me. I learned about the Buryat Shamans who lived in the region around the Lake. I was unable to meet any at that time, but again knew I would be back.
The First Meeting with Ai-Churek
I met Ai-Churek Oyun while she was visiting San Francisco in September 2002 and holding workshops about her Shamanic practice. She is known as the most powerful woman Shaman in Tuva. As I had experienced a Shamanic healing with Nicholai earlier in the year, I wanted to experience what she called a Shamanic massage. This was the first time she was in the U.S. teaching and giving private healings. Once again, I was guided to be with this Shaman and learn more about Siberian Shamanism. That first session was very powerful and very informative for me. During the healing, which consisted of her bringing energy deeply with intention and spirit guidance to the places in my body that most needed it she drummed and used throat-singing for meditative purposes. The drum is the horse - the vehicle to the spirit world, and I was learning how important and powerful this tool was. Afterwards, she said I was very strong, both mentally and physically. I admired her strength and ability and I was grateful for meeting with her.
During her workshop, she told us that she does not do the healing, but that we heal ourselves. She was only there to teach us how we can heal ourselves. She took no credit for the healing. "You are your own doctor," she told us. She taught us sounds to use in daily practice that bring balance and healing to our lives. Sounds and poetry are given by the spirits and used for healing. She opened her methods of practice to the three of us who attended her first workshop. She said three was a good number for her and she was pleased that three of us came to learn from her. I was compelled to bring her gifts, tools of my own that I had worked with for many years - half of an amethyst crystal that had recently broken in two, vulture feathers that I often collected, sand dollars from Ocean Beach - all things given to me as gifts from nature and used in my daily practice. My intention was to honor her as my teacher and mentor and to share the energy passed on to me. We were told she would be back in the spring, and I looked forward to working with her again.
In the meantime, I applied for and was accepted to a Shamanic Healing Apprenticeship Program offered by Lenore. This yearlong program introduced me to many ways of healing and understanding how to more intimately work with my Spirit guides. This was a yearlong intensive of journeying, practice and methods providing an opening to my direct link with the energy of the Universe. I was grateful for the work that pushed me into learning more about myself and continued building my relationship with my Spirits.
Through one of my fellow colleagues in this program I learned about a Siberian-born Russian woman who was organizing a trip to Lake Baikal. Upon our first meeting, Galina Vladi told me of a legend she learned while in Siberia that if 33 Shamans were to join their hands and perform ceremony at the gate of the parallel world in the Alhanai Mountains of southern Siberia peace would come to the planet. Working with Buryat Shamans from Ulan-Ude and Irkutsk towards realizing this vision, she learned that Buddhist monks of the region would not allow such a gathering in this place. The site was then changed to Olkhon Island at Lake Baikal. My dream to return to Siberia was becoming clearer in my vision, and I knew I must go. I offered my assistance in organizing this journey.
Second Meeting with Ai-Churek
In Tuvan, Ai means moon and Churek means heart. Moon Heart seemed to me a very powerful yet compassionate name for this Shaman woman. Due to visa problems, she wasn't able to come to the U.S. until June 2003. I kept in contact with her sponsor during that time so that I wouldn't miss seeing her.
From my journal, I wrote:
"We are back together again on this day in the woods in the house near the pond. The fog hides the sun and is not so bright, but not cold." I felt as if I were returning to my distant, yet loving relative. We greeted one another with hugs and smiles. She studied me with her dark eyes and I return her look fully. Because of our inability to communicate directly in each other's languages, we often talk heart to heart. I am comfortable in her presence and she begins teaching us to create our Ehren, the spirit doll fetish that will be with us in this work. We journey on what it will look like and mine turns out to be a bird with many colored feathers. I am air, bird energy, and I am uplifted by the rise of this energy into my blood and the song produced in its creation. The Ehren helps to bring the ancestor's energy/power and they will speak through me. After it is purified, the Ehren will show the first way for me to go. It can be used for healing and transmitting energy to the sick and for the divination with the 41 stones, which she will teach us later. The Ehren gives advice when asked. "Be with Ehren!" Ai-Churek emphasizes over and over again.
I told her about the possibility of my going to Siberia in August with a small group to Lake Baikal with intent to meet with Buryat Shamans at Olkhon Island, the sacred place of the Buryats. During our practice with the 41 stones, I ask my question as to whether I am needed on this journey. Bi-cara' was my message. A resounding 'YES!' to my question. It was then I started making my plans to return to Siberia, and this time, I also intended to go to Tuva to work with Ai-Churek on her land. "Go!" Ai-Churek said. "Go!"
Challenges and Tribulations of Shamanic Journeys
For the next two months I held the vision of this journey in my heart. There were many obstacles to overcome and at times it felt as if we would succumb to financial problems and the bureaucratic morass of Russian immigration regulations. Some members of the British contingent finally gave up. Two days before we left San Francisco, I picked up our passports and visas for the six travelers from the Bay Area. We were on our way.
After three days' journey beset by delays, missed connections and fog, the seven American travelers finally arrived at Olkhon Island to be met at the edge of the small fishing village by the group of thirteen Shamans and their families. They came from throughout the region - some driving days to get there. An elder, Galina Nicholaiovich, sang a welcoming song holding the blue scarf of honor and respect and presented this to Galina Vladi. As tired as we were, we were immediately taken in by the warmth of this community. It was a tearful re-union.
All of our meetings were held in nature - at the lake's edge, in the trees, on the bluffs above the lake. We learned about this sacred site and the thirteen gods who have lived here, the history of the Buryat Shamans and then we learned about each of the individuals participating in this event. When asked to introduce myself to the group and what it was that brought me here, I knew then that I needed to know about my ancestry and how it was that I was called to this work. That week, during the Ongon, the special ceremony honoring the gods of this land, Shaman Bair, the leader and most powerful of the Shamans, let himself be the channel for the god, Khan Khato Babeya. I was called to kneel before this powerful god who held the knowledge of all ancestry. He came and answered my question. "It is written that your great grandfather was a powerful Shaman from Tibet," I was told. There was nothing more I needed to know. I had come home. I then realized the importance of this meeting, not just for myself, but for the Buryats, who for the first time in eighty years came together to perform this Ongon ceremony. This new generation of Shamans continues to honor the legacy of their ancestors despite years of repression. In so doing, they honor us by reaching out to those of us from throughout the world that must understand our own legacy to practice Shamanism. For too long we have been torn apart from our families, traditions and isolated from our indigenous communities. It is the ancient knowledge and traditions that must be passed on to save our planet from destruction. This is a grave responsibility - and one that we cannot forego because the consequences are too great. All of us understood this responsibility and I felt as if a miracle had occurred and encircled us in glorious light. This gathering was the spark of light in the darkness surrounding our world.
It was with this powerful experience at Olkhon Island that I left the Buryats and departed for Tuva. I remembered a question my husband asked me before leaving. "What are your expectations of this trip?" I said that I expected to learn what I needed to in order to continue in this work. And so it was.
Third Meeting with Ai-Churek
Even though I had not made formal arrangements to meet with Ai-Churek in Tuva, when I arrived at her Shamanic Clinic, she was standing outside, saw me, recognized me, then shouted her welcome and gave me a hug. This is where I needed to be.
I was traveling with two members of the original group from Baikal, Juan and Mara, and she offered us tea. We were introduced to another Shaman, a young Russian woman, Natasha, who would translate for us. Natasha later told us that she came to visit Ai-Churek three years before from Moscow and stayed. Then Ai-Churek said she was taking a group out to the country to the southernmost part of Tuva near the Mongolian border to do the work and she invited us to go for the four-day journey. Of course, this is why I came to be with her and learn as much as possible. We were to return to the clinic the next day at 4:00 p.m. and be prepared to camp out during the four days. It turned out the other members of the group were young Russians and Tuvans, and it was heartwarming to see young people in their twenties taking part in this spiritual work. I enjoyed being in their company. We were also accompanied by Natasha and another Shaman from the clinic, Lara, who would do the cooking for the group and assist Ai-Churek, along with the driver. We were thirteen in all following Ai-Churek out to the land, to nature to explore our spirituality and go deeper in the ways of the Shaman.
We were tightly packed in a small van with all our gear and our first stop was at the market to buy all the food needed for our days in the country. Cooking and eating is an important ritual I learned, much like the hospitality and generosity I learned within my own family. We stopped at an ova along the side of the road. This was a place of prayer, sometimes a branch set in the middle of a mound of stones or trees swathed in prayer ribbons. Ai-Churek offered coins, sprayed Vodka and we tied our own ribbons for safe journey or any intention we wished. We each placed a stone on the ever-growing mound. The land here is as expansive as our own southwest of the U.S. and the air is clean and the sky brilliant. We were taken to Ar-Golick Springs to spend the night and hold a purification ceremony at the ova near the springs. Here people come to bathe in the clear mountain water and enjoy the beauty of the forest and mountain surrounding the area. We were told to let the water flow over us at least three minutes and that people return to this place to purify time and again. I don't think I stayed but two minutes.
As we set up camp, tea was always ready with a light snack and a campfire along with a pot of stewed sheep was the first thing to get going. When Ai-Churek gave each of us a bowl of stew, she instructed us to eat all the meat off the bone and to make it as clean as possible. The next day we learned that each of these bones would be wrapped with cloth and given to each of us as tools in our Shamanic work. I was given two pieces of vertebrae and she told me to look through the hole of the vertebrae towards the sun. When the color of the sun turned blue, it would be ready for placing on oneself or a client for healing. The second vertebra was to be given to someone else for protection. When I arrived home, I gave this piece to my daughter. That afternoon we were told to find three stones and go to the mountain and play our drums or pray or whatever we wished. As it turned out, I climbed half way up and found a place to play my drum in the forest. I preferred to be in the forest alone at that moment and then later near the sacred waters. I played my drum in thanksgiving. The three stones were also wrapped in cloth with a loop so that we could wear it around our neck during ceremony. All the tools were blessed with milk and fire.
We left that place and headed south to another ova. This one was Ai-Churek's personal ova near the village of her birth. Here she held another ceremony welcoming us to her land blowing her conch to call us together, inviting us inside the teepee formed of long branches and tied with prayer ribbons, and placing her braided ties around our left wrists as a reminder of this ceremony. We walked around the sacred stones as large as gravestones placed at the center of the area of the ova, and I felt humbled at this moment knowing the honor given us. That evening we would stay up most of the night in ceremony at the plateau above her village drumming, chanting, circling, the ova and the stones. She had us tie ribbons that we braided to the branches atop the ova even while the rain poured on us during that night. People from the village came to join us as they heard the drumming. She told us to play our drums and as I awoke my drum at the fire, I began to play until I sensed lightness in my being and felt one with my Shaman. Late in the night she told us we were Shamans and that we had the power to perform ceremony and be healers of our communities. This was our initiation to the Shamanic world.
We left that place and traveled further south during the night until we came to a small lake on the border with Mongolia. We arrived there just before dawn and slept in the van our one room caravan. As children in a large bed might do, we covered one another and felt closer because of our shared experience at the ceremony. When the dawn came, I felt free and open to this new world and excited about being in this remote place. As we set up camp and the cook fire, I felt alive and energized by the night's events and appreciated what great gifts the Spirits were bringing to me. I was quiet but alert to my surroundings, to the crystal clear lake, the clouds, sun and sand. To the wind, the birds, the sounds of music playing on the boom box - Tuvan and Russian techno. At that moment, I knew I had transcended the ordinary in order to taste this extraordinary moment and to be caressed by the earth here in Tuva. I felt blessed.
Later in the day it was time to go for a sheep that would be sacrificed in honor of our gathering. In the distance was a yurt where a family was living during this season with their flock of sheep and goats. Natasha approached the family to ask whether they would sell one of their sheep, a price was agreed upon and Mother and Grandmother got into the van to show us where the flock was. The young son was herding on horseback some distance from the camp and we walked the flock back to the corral at the yurt camp. The whole family was involved in choosing the sheep and the men tied and placed the sheep into the van. He was quickly and respectfully killed and butchered by the men, and the women cleaned and made blood sausage for the night's meal. I watched as the animal's parts were carefully prepared and the hawks came one by one as they knew they were in for a treat. The liver was sautéed and the first part offered to the group. I thanked the sheep for its life and gift to us.
As the night wore on, the stars shown brightly and in the firelight, Ai-Churek gave a passionate speech on what it means to be a Shaman in these times. The reality of people not honoring the traditions and sacred places, the difficulty to reaching out to teach people what they need to know in order to survive these chaotic times and to be prepared with the knowledge to move forward. She seemed to me the Social Justice Committee of one, trying to have people understand the importance of working with Shamans and the Spirits. She seemed powerful to me then and I respected her humanity in serving her community and reaching out to us, and others like us, in the rest of the world to bring the knowledge out. She seemed to me a most courageous woman.
Leaving this place was difficult the next day. We had practiced our Shamanic massage on one another, ate our last meal and as we were leaving, the wind started rising giving us a push to move out and get on with our work. We stopped at a rock formation another sacred site, made our offerings at the ova and each of the ovas we had visited on the way to the lake. Our last stop before driving back to Kyzyl was at Ai-Churek's ova, and it was here we celebrated the site by cleaning up trash, replacing two of the three teepee structures, and knowing that social consciousness and Shamanism go hand in hand. The earth, our home, deserves our attention, and we have a responsibility to maintain balance or to restore balance as needed. It was clear that ceremony comes in many forms, and we made cleaning this place a ceremony to honor and respect the sacred environment. The earth is a sacred environment I thought, as well as these selected sites, and we must show our respect to her.
Ai-Churek planned one last ceremony the night before I was to leave Kyzyl. The others were staying longer than I, so we had dinner then final ceremony drumming by the fire with all the Shamans visiting the clinic that week. They invited me to drum with them, and I felt the energy rise in me as I chanted and was at home with these Siberian Shamans. When we were finished, I cried, I was so full of emotion and appreciation of the moment. Ai-Churek asked why I was crying and I told her it was good. She laughed and hugged me and gave me her blessing. I was gifted with a bear claw from Natasha, a seal tooth for healing from Lara and a pouch with bones and herbs carried by her sister, Aida, another Shaman. I was drawn into this tribe by way of my ancestors and I was shown the way of the Shaman by these remarkable Tuvans. I now know my way.
Ai-Churek visited San Francisco again in September and October and I attended another of her weekend workshops. This time she taught us about Shamanic songs and poetry, dream divination and more practice with the 41 stones. While here, I invited her and other performers traveling with her to my home for dinner. I was happy to have them with us and for my husband and daughter to finally meet my dear friend and teacher, Ai-Churek. She will be back in the spring, and we will meet again. The work continues and I will most likely go back to Siberia again to work with my Buryat and Tuvan Shamans.
References Cited:
Sarangerel
2001 Chosen By The Spirits: Following Your Shamanic Calling. Rochester, Vermont: Destiny Books.
Sarangerel
2000 Riding Windhorses: A Journey into the Heart of Mongolian Shamanism. Rochester, Vermont: Destiny Books